Create trading systems with ease
Use NeuroShell Trader's point and click interface to quickly build, optimize, and test your systems without coding of any kind!
Create trading systems with indicators and rules that works with stocks, FOREX, futures, and commodities
Use state-of-the-art genetic optimization and neural network predictions
Create trading systems for multiple securities in one pass
Perform cross market analysis by easily combining data streams in models
Mix different timeframes in a single trading system
And more…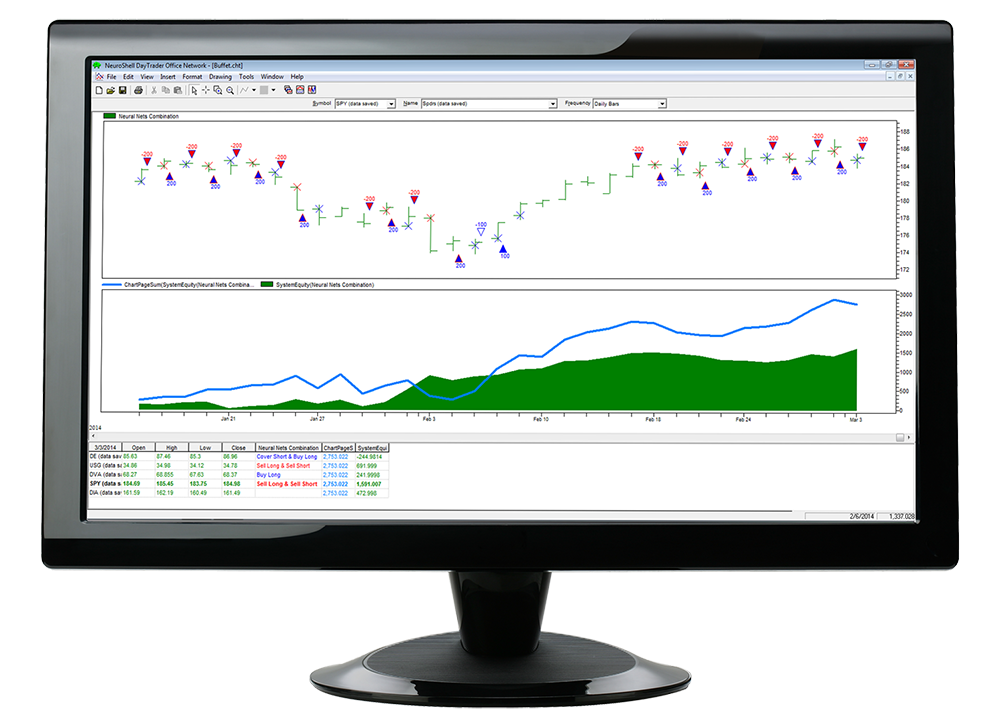 Best Artificial Intelligence Trading Software
NeuroShell Trader Professional has been rated #1 THIRTEEN years in a row!

Technical Analysis of Stocks and Commodities Readers' Choice Awards.
2003, 2004, 2005, 2006, 2007, 2008, 2009, 2010, 2011, 2012, 2013, 2014, 2015

Praised by Users
Read what some of our users, who range from individual investors and day traders all the way up to large hedge funds and Fortune 500 companies, have to say about NeuroShell Trader.
Tim Harbort

If you don't think you need to hear the story of another market friend (or foe) read the starting line again and order NeuroShell now. If you want an honest reflection on this product before you order, read on.

Read More

Eric Hoyle

I have been very impressed with the improvements Ward Systems has made over the years. I have tried a lot of other packages, but there are few tools that give you the flexibility to design, optimize and implement like NeuroShell Trader. I also have been very impressed with the add-on products done by Ward and others.

Sebastian Fainbraun

Not only is this one of the most powerful trading tools I have ever encountered (and I've tried most of them), it is also the easiest to use.

Kermit Johnson

The software has more capabilities that I will probably use, but it is easy to use even for this farmer from the Midwest, who has not studied math for 35 years. I am not only using it for market analysis to give probabilities of trends in the commodity markets, but I am also using it to predict profits (or losses) in parts of my business.

Daniel Beveridge

Having a lot of fun with the distributed processing version already - finally able to run the kinds of tests I have wanted to for years, but which simply took way too long to be viable.

Bob McRae

... I continue to be pleased with the support provided by your team. The product is very mature, very stable, extraordinarily rich with tools, and well integrated with strategy prediction, backtesting, and trading interfaces. In 15 years of trading experience and customer of several tools over the years, NeuroShell support exceeds my expectations every time. Please keep up the excellent work with your email and phone support!